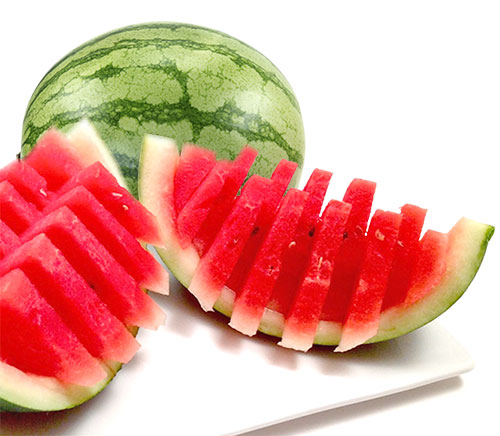 Watermelon benefits for health (स्वास्थ्य के लिये तरबूज के लाभ)  include to protect from heat stroke and dehydration, prevents acidity, helps in cleansing, weight loss, constipation and high blood pressure, enhance immunity and many more.
Watermelon is one of the most refreshing, delicious and thirst quenching fruit which is definitely secures the top rank in the list of eatables that people love to eat in the summer. The water content in watermelon is also extremely helpful in keeping the body hydrated during the hot summer months.
Watermelon is actually considered a nutrient dense food, a food that provides a high amount of vitamins, minerals, antioxidants and organic compounds for a low amount of calories. Below is the nutritional chart of watermelon :
Watermelon Nutrition : (Per 100 gm)
Energy 127 kJ (30 kcal)
Carbohydrates 7.55 g
Sugars 6.2 g
Dietary fiber 0.4 g
Fat 0.15 g
Protein 0.61 g
Vitamins :
Vitamin A equiv 28 μg
beta-carotene 303 μg
Thiamine (B1) 0.033 mg
Riboflavin (B2) 0.021 mg
Niacin (B3) 0.178 mg
Pantothenic acid (B5) 0.221 mg
Vitamin B6 0.045 mg
Choline 4.1 mg
Vitamin C 8.1 mg
Minerals :
Calcium 7 mg
Iron 0.24 mg
Magnesium 10 mg
Manganese 0.038 mg
Phosphorus 11 mg
Potassium 112 mg
Sodium 1 mg
Zinc 0.1 mg
Other constituents :
Water 91.45 g
Lycopene 4532 µg
Source : Wikipedia
These components of watermelons contribute to its major impact on health. Let's explore the details below for few of the watermelon benefits for good health and to cure general diseases at home!
Watermelon Benefits For Health : Video
Watermelon Benefits For Health – 1
To Protect From Heat Stroke and Dehydration :
Watermelon is well known as a shield against heat stroke and dehydration in hot prickly summer. You can make a delicious salad to en cash this property of watermelon.
Remove the rind and seeds of 100 gm watermelon and dice it.
Add 50 gm chopped cucumber, 2 tbsp finely chopped fresh mint leaves and 2 tbsp finely chopped fresh coriander leaves in it.
Then add salt, black pepper powder and lime juice as per taste.
It is recommended to eat this delicious and healthy watermelon salad daily once a day in summer season to protect you from heat stroke and dehydration.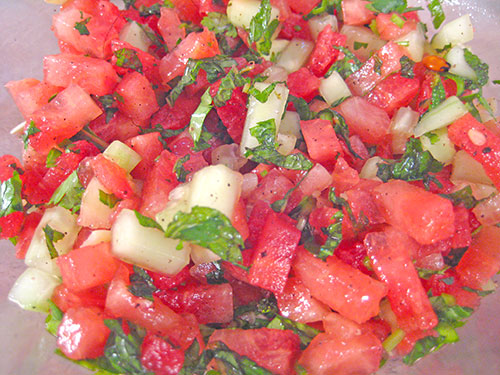 This watermelon salad is also good for them who are already suffering from heat strokes and dehydration due to prickly heat.
Watermelon Benefits For Health – 2
For Acidity :
Amino acid presents in watermelon balances acid level in body and hence cures acidity.
Take 1 glass watermelon juice and mix 1/2 tsp cumin seeds powder in it to make a natural acidity regulator.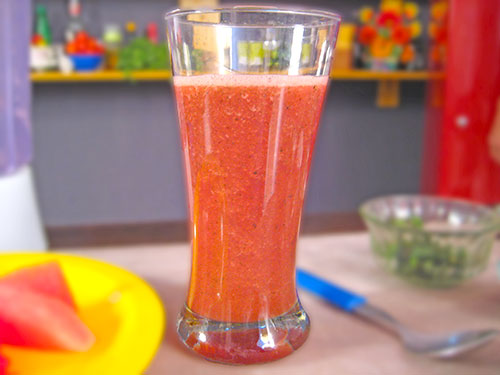 Drink it daily once a day to cure acidity.
Watermelon Benefits For Health – 3
For Cleansing, Weight Loss, Constipation and High Blood Pressure :
Watermelon cleanses human body by detoxifying it. Antioxidants present in watermelon protect us from abdominal cancer, heart diseases, and diabetes. In addition to this, potassium controls blood pressure and amino acid controls weight. You can make a delightful soup of watermelon to take these medicinal advantages from watermelon.
Take 250 gm de- seeded watermelon in a blender to make this soup.
Add 1 tbsp finely chopped fresh mint leaves in it.
Also add 2 tbsp lime juice and 1 tsp ginger juice.
Now blend it well to make a delightful healthy watermelon soup. You can serve it chilled or at room temperature.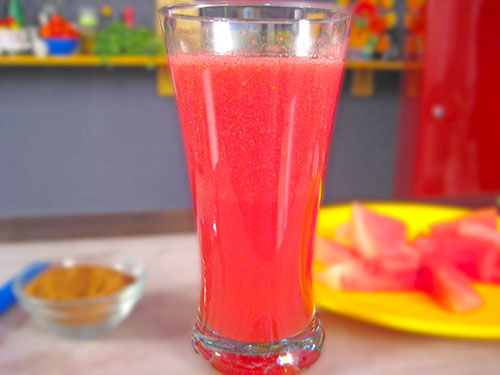 You can drink 1 glass of this soup daily to detoxify your body, to control your weight, to cure constipation and to control high blood pressure.
Watermelon Benefits For Health – 4
To Enhance Immunity :
Vitamin C presents in watermelon enhances immunity. If you mix some seasonal fruits of summer with watermelon, then this fruit cocktail will be an awesome diet for you to increase immunity as well as to add a new taste in your meal.
Mix 1 cup watermelon pieces, 1/2 cup ripen green grapes, 1/2 cup black grapes, 1/2 cup deseeded orange and 1/2cup de-seeded chopped lychee to make this incredible fruit cocktail.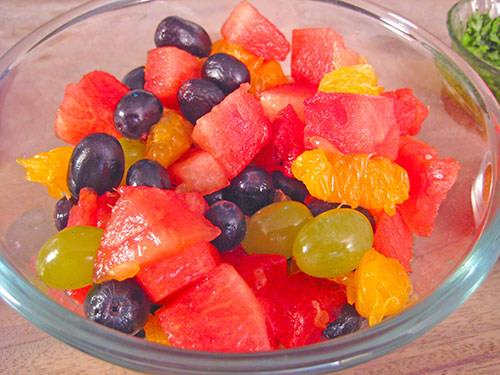 You can also add chat masala to enhance the taste of this fruit salad. If you eat 1 cup of this fruit salad daily or every alternate day in whole summer season, then the vitamin C and other nutrients present in these fruits will enhance your immunity and will protect you from many diseases.
In addition to this, dietary fiber of these fruits will make your digestive system strong and will cure indigestion and constipation. But kidney patients should eat this fruit salad in low quantity because it is rich in potassium.
Enjoy the great health benefits of watermelon and stay happy and hearty!
Related Posts :
---