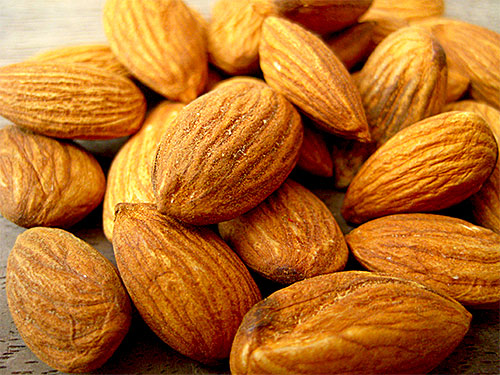 Almond is rich source of protein, vitamin E and antioxidants because of which there are many health benefits of almonds are suggested in Ayurveda.
Few of those health benefits of almonds (बादाम के 5 लाभ) are described here with natural home remedies and easy recipes of almonds.
These benefits of almonds can help you to control your cholesterol, strengthen the muscles, improve eye sight, improve weak memory, get rid of headache, cough, cold, sinusitis and constipation etc.
5 Health Benefits of Almonds : Video
Benefits of Almonds – 1
Almond reduces cholesterol and gives strength to muscles.
Crush 5 almonds, 5 black pepper and 11 holy basil leaves.
Mix this mixture in 1/4 cup of water.
Drinking it daily once a day is very good for almost all heart diseases.
Benefits of Almonds – 2
Almond is a very good medicine for poor eye sight, headache, weakness and weak memory.
Soak 5 almonds and 1 tsp khas khas seeds (poppy seeds) in water overnight.
Peel the almonds in morning.
Crush these almonds with khas khas.
Add this mixture to 1 glass of milk (at room temperature).
Add 2-3 leaves of saffron and sugar as per taste to it and mix it well.
Drinking it daily gives quick relief in headache, weakness, poor eyesight and weak memory.
Benefits of Almonds – 3
Almond is also a very good medicine for cough, cold and sinusitis.
Crush 50 gm almonds, 10 gm black pepper and 25 gm sugar.
Take its 1 tsp daily at night with warm milk.
It cures cough, cold and sinusitis rapidly.
Benefits of Almonds – 4
Almond cures diseases of digestive system such as constipation.
For constipation, add 1 tsp almond oil to 1 glass of warm milk.
Drinking this milk daily in morning and at night cures constipation quickly.
Benefits of Almonds – 5
Antioxidant rich almonds also cures boils.
Crush 1 almond.
Add some water to it and make a paste.
Tie a poultice of this almond paste on boils.
Doing it daily cures all kind of boils, i.e. big and small boils rapidly.
---
---
Write me your feedback and queries about general health and beauty tips in the comment area below.