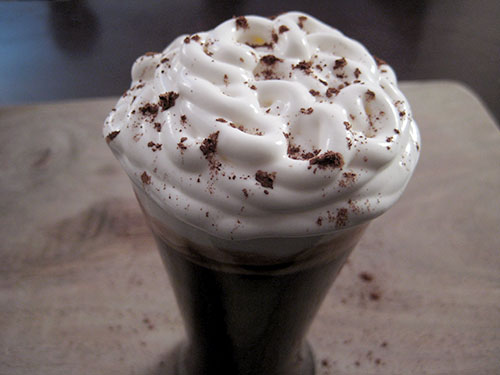 Hot chocolate milk recipe (हॉट चॉकलेट मिल्क रेसिपी) is an excellent drink that is especially welcome during the cold, grey winter months, or after an exhilarating morning on the ski slopes. Homemade hot chocolate milk is an easiest and cheapest option to enjoy this mouthwatering beverage.
Everyone will love this homemade, creamy hot chocolate milk in which fresh whipped cream is gently folded onto the top.
Serving                       :         1 Person
Prep Time                  :         5 Minutes
Cook Time                 :         10 Minutes
Passive Time             :         15 Minutes
Take a look on the following ingredients which helps you to make hot chocolate milk :
1. Dark Chocolate                        :               50 gm
2. Milk                                              :               250 ml
3. Coffee Powder                         :               1 tsp
4. Drinking Chocolate                 :               2 tsp
5. Coco Powder                             :               1/2 tsp
6. Brown Sugar                              :               4 tsp
7. Vanilla Essence                         :               2 drops
8. Whipped Cream                       :               50 ml
Hot Chocolate Milke Reacipe : Video
Hot Chocolate Milke Reacipe : Step by Step Instructions
Scrape dark chocolate and melt it.
When chocolate melts, add hot milk in it and mix it well.
Then add all the ingredients except vanilla essence and cream. Let the milk boil on low flame by string it continuously for 5 minutes.
Now switch off the flame, add vanilla essence and mix it.
Hot chocolate milk is ready to enjoy. Serve it hot in a glass. Garnish it with cream and coco powder.
Other Smoothie Recipes:
---
---
Try this tasty hot chocolate milk recipe and write me your feedback in comment area below.