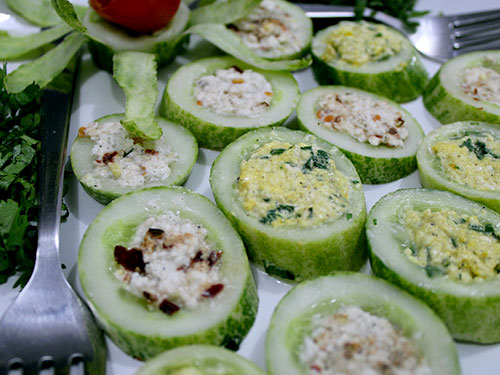 Cheese cucumber salad recipe (पनीर खीरा सलाद रेसिपी) is a nutritional salad recipe from Indian Cuisine. It is an easy, quick, bountiful, flavorful recipe and surely keeping you full.
The principal ingredients of this unique salad recipe are cucumber and cheese. You need to remove all the seeds of cucumber with the help of peeler point. Then stuff with tasty cheese mixture. Prepare the stuffing mixture by grated cheese and mix fresh cream, red chili flakes, salt, black pepper powder lime juice and fresh coriander leaves in it. Use of yellow food color make the salad colorful and eye appealing.
This cheese cucumber salad is best enjoyed chilled, so prepare it a little ahead of meal-time and pop it into the fridge. However it can also be enjoyed as an appetizer and works well as a healthy and filling snacks. This recipe captures every season so can be prepared round the year.
It can also performs well on your fasting days. Just use rock salt instead of regular salt in fasting days.
So get ready to make this nutritional combo of cheese and cucumber and give a tasty treat to your love ones!
Serving            :         2 Persons
Prep Time       :         20 Minutes
Cook Time       :         0 Minute
Total Time       :        20 Minute
We need :
1. Paneer                                    :           100 gm
2. Cucumber                              :           2 (small sized)
3. Fresh Cream                         :            1 tbsp
4. Red Chili Flakes                   :            1/2 tsp
5. Black Pepper Powder         :            1/2 tsp
6. Lemon Juice                          :           1 tbsp
7. Coriander Leaves                 :           1 tbsp (Fresh and finely chopped)
8. Salt                                           :           to taste
9. Yellow Food Color                :          2 drops
Cheese Cucumber Salad Recipe : Video
Cheese Cucumber Salad Recipe : Step by Step Instructions
Wash cucumbers and slice the heads.
Then, remove the seeds with the help of a peeler and make the cucumber hollow.
Now grate your paneer and add salt, lemon juice, black pepper powder and cream.
Now divide this mixture in 2 equal parts.
Add chili flakes in 1 part and stuff it in hollow cucumber.
Add yellow food color and fresh coriander leaves in another part of the mixture.
Stuff it in another cucumber.
Put both the cucumbers in fridge for 15 minutes.
Now slice both the cucumbers and serve the colorful healthy kheera paneer salad.
Related Recipes :
---
---
Make this yummy cheese cucumber salad recipe and write me your feedback in comment area below.