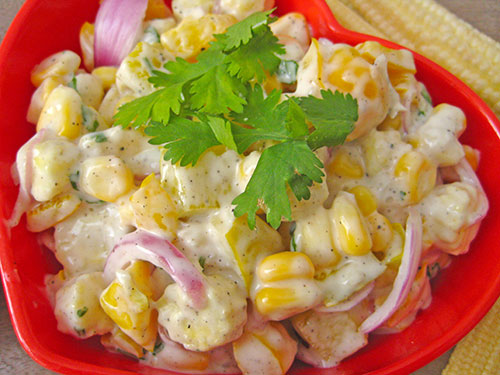 As we all know that salad recipes (सलाद रेसिपी) are always great for a light, tasty, quick and nutritious meal and truly captures the summer season.
Today, we are making yellow delight salad recipe which is an easy, quick, bountiful, flavorful recipe and surely keeping you full. It can be prepared in jiffy.
This yellow delight salad recipe (येलो डिलाइट सलाद रेसिपी) contains fresh boiled corn, fresh boiled and sliced baby corn, yellow capsicum, garlic, onion, fresh coriander leaves, salt, black pepper powder and ranch flavored mayonnaise . This salad is best enjoyed cold, so prepare it a little ahead of meal-time and pop it into the fridge.
So ready…..set…..GO! to make this veggie-friendly recipe of yellow delight salad which is so refreshing on a hot day and has lots of flavor.