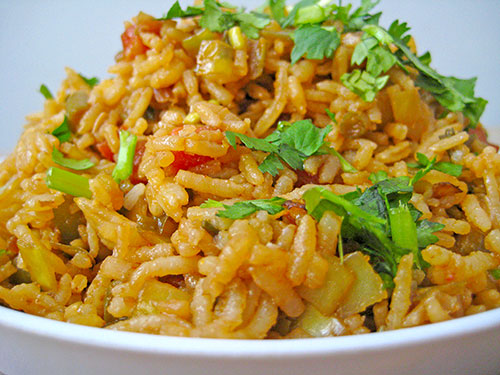 Veg Chinese fried rice recipe is one of the most popular rice recipes across the world. Everyone loves a zesty, greasy veg fried rice from the chinese cuisine, but it is also a dish that can be easily make at home!
Veg Chinese fried rice recipe is prepared by steamed rice with some fresh chopped vegetables, soy sauce, red chili sauce and white vinegar. Basically, some seasonal fresh vegetables are sauted with sauces in a chinese wok first. Then steamed rice are stir fried with these crunchy vegetables to make veg Chinese fried rice.
It is one of the staple foods in Chinese cuisine. It is prepared by both the fresh steamed rice and the leftover steamed rice. Sometimes leftover vegetables are also used to make fried rice. It is popular as street food, as a snacks and as a fast food. It is served in all the meals in different regions of the world including breakfast, lunch, dinner and brunch.
Veg Chinese fried rice is not only easy to make at home but also allow us to use many vegetables in a single dish which makes it more healthy and full of flavors.
Let's try a finger-licking veg chinese fried rice recipe which loved by all age groups of members.
Veg Chinese Fried Rice Recipe : Video
Veg Chinese Fried Rice Recipe : Step by Step Instructions
Heat 1 tbsp sesame seeds oil in a Chinese wok.

Saute garlic in this hot oil for a minute on low flame. We have no need to brown the garlic.

Now add spring onion and green chili pepper in it and saute on low flame for 1 minute.

Add all vegetables and salt to taste and stir fry the vegetables on medium flame until tender.

We need crunchiness in veggies in our fried rice, so we have to stir fry our veggies on medium flame without lid.

When veggies start to tender, then reduce the flame and add soya sauce, red chili sauce and white vinegar in it. Stir it continuously for 1 minute for uniform mixing.

Finally add steamed rice in cooked veggies and stir till the sauces has coated the fried rice well.

Sumptuous veg Chinese fried rice is ready. Garnish it with celery leaves and serve hot with Manchurian gravy.

This dish is full of healthy fiber, protein, good fat and good carbs, and is loaded with vitamins, minerals and antioxidants. Your whole body will thank you for it. So give a try to this yum yum recipe !
To make perfect vegetable fried rice, each and every rice grain should be separated. So make sure there are no lumps of steamed or cooked rice. You can put few drops of cooking oil in water while boiling the rice. Rice grains will not stick to each other by doing so.
If you love sweet and sour taste, then you can add 2 tsp tomato sauce in it.
Related recipes :
Raw mango pulao
Nuts and herbs pulao
Tomato Pulav recipe
Easy carrot peas pulao
Indian fried rice recipe