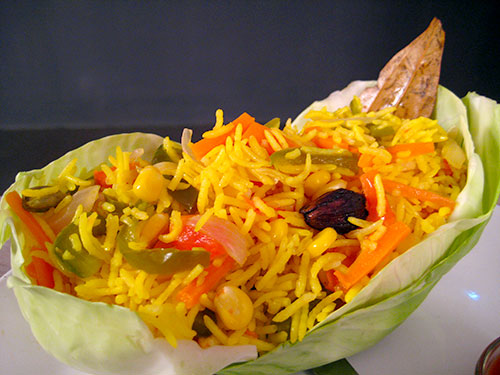 Hi guys! Today's recipe is Veg Biryani Recipe (वेज बिरयानी रेसिपी) which is a traditional mughlai main course dish that has been adapted by Indians. It is loaded with chopped vegetables and some whole spices and the color. Its appearance makes this rice dish very inviting.
Veg biryani is a quick and easy recipe that you can make for lunch box. It is prepared with long grain basmati rice, onion, capsicum, carrot, american corn and tomato. Once you chop all the veggies, then the cooking of veg biryani is very easy.
The best part of this recipe is the use of few whole spices including black cardamom, green cardamom, cinnamon, bay leaf and cloves. These all spices together give it a wonderful aroma and flavor as well as make it more nutritious. No need to use red chilli powder in it to make it hot and this is the reason that small kids can also enjoy this biryani. Undoubtedly it is a satisfactory meal all by itself.
This is a hearty and healthy rice recipe version. It is a complete meal within itself or can also be enjoyed with plain yogurt, cucumber raita, potato raita, pickles, coriander chutney or papad.
Try this veg biryani recipe as a very popular and widely recognized Indian dish!

Veg Biryani Recipe : Video
Veg Biryani Recipe : Step by Step
First of all, rinse rice and cook it with 400 ml water, salt and turmeric powder until al dente.

Now drain your rice and keep aside.

Heat ghee in a pan and splutter whole spices in it.

Then cook vegetables in this ghee on medium flame until al dente.

Finally, add half cooked rice in this vegetable mixture. Cover a lid and cook rice and vegetables together on low flame for 5 minutes.

When we will cook rice on low flame with vegetables, then rice and vegetables will cook completely and rice will absorb flavors of vegetables and spices.

When rice will cook completely then switch off the flame. Mix your biryani well and serve it hot.