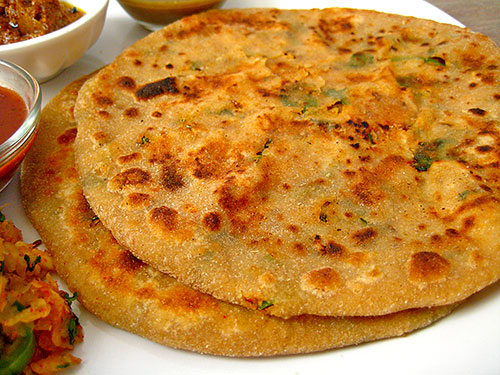 Mooli Paratha Recipe (मूली परांठा रेसिपी ) is one of the popular recipes in most regions of Northern India. This paratha recipe is a delicious healthy recipe, easy to prepare and it is the best alternative for a simple roti or chappathi. It is a preparation of whole wheat Indian bread stuffed with grated spicy mooli (radish).
Healthy radish with mild spices stuffed in Indian flat bread served with chutney, pickle and various sauces is a dainty dish.Many people dislike radish because of its smell. If you are one of them and don't incorporate it in your food then mooli paratha recipe is the best way of adding radish to your healthy diet because radish has lot of health benefits including:
Very good for liver and stomach
Powerful detoxifier (purifies the blood and eliminates toxins and waste)
Satisfy your hunger without running up your calorie count
Good source of anthocyanins which helps to reduce cardiovascular disease
Very high in fiber
Good source of potassium, so helps in reducing blood pressure.
Mooli paratha is a very comfort food for breakfast, lunch and dinner, so let's enjoy making this wonderful North Indian dish at home.
Mooli Paratha Recipe : Video
Mooli Paratha Recipe : Step By Step Instructions
Peel and grate radish to make paratha.

Now squeeze the shredded radish between your palms to release its juice and keep it aside.

Now, take whole wheat flour in a bowl. Add salt as per taste and mix radish juice in it, and knead the flour to make the dough. You can also add plain water if required.

Cover the dough with muslin cloth and leave it for 10 minutes. Meanwhile we will prepare stuffing mixture for our crispy Mooli Parantha.

Add salt, red chili powder, cumin seeds, green chili and coriander leaves in shredded radish, and mix these ingredients very well.

Keep this stuffing mixture aside and make medium sized balls from the dough. Dust one wheat ball with dry flour and roll in 4 inch size.

Put 3 tsp stuffing mixture over it, fold it from all the sides and seal it properly. Then again dust it with flour and roll it in approximately 6 inch size with gentle pressure.

Heat a tava and turn your paratha over the pre-heated tava. Grease your paratha from both the sides with Ghee or oil after a while, and let it bake on medium flame from both the sides.

When your paratha covered with spots from both the sides, it is ready to serve hot with pickles, chutney, and tomato sauce.

Enjoy the taste and healthy bites!