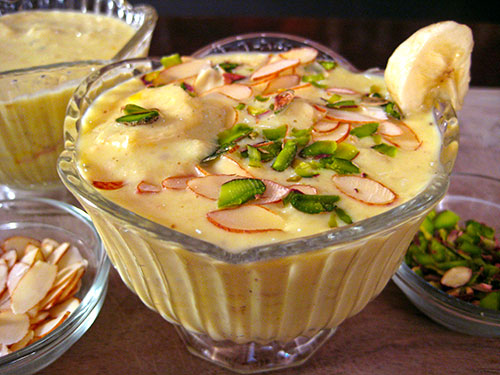 Friends! This janmasthmi I have banana kheer recipe (केले की खीर रेसिपी) for you which is a famous dessert recipe of Indian Cuisine. A spoonful of this kheer immediately transports you back to your childhood, when your mother used to make this dessert to feed you. Simple, delicious and packed with wonderful memories, make this to remember those good times.
Kheer is widely prepared in almost every Hindu festival. Everyone's likes kheer and this banana kheer recipe is one of the best kheer recipes which you can try on this Rakhi or Janmasthmi.
Banana kheer recipe is prepared with ripe bananas, milk, cashew paste and used some sugar to taste. Cardamom powder and saffron are used to enhance the taste and appearance of this indian delight dessert.
Banana kheer is a perfect fasting recipe as well as good for babies, kids and toddlers and can be given to babies from 8 months. Even my 5 years old daughter Ishani loves this kheer. It is a quick and easy recipe and tastes best when served chilled.
It is a perfect sweet dish which can be served from breakfast to dinner or as a healthy snacks.
The best part of this kheer recipe is that it can be enjoyed through out the year as the key ingredient Banana is available in all the seasons And this is the reason that Banana is an integral part of Indian Culinary. It is used in salads, custard, cakes and muffins. The famous Banana Bread needs no introduction.
Let's celebrate this Janmashtmi with this Banana Kheer Recipe – A truly yummy nutritious dessert!

Banana Kheer Recipe : Video
Banana Kheer Recipe : Step by Step
Now switch off the flame and let it cool.

Delicious and nutritious banana kheer is ready. Garnish this kheer with almond-pistachio chips and serve at room temperature or chilled.
See other Kheer Recipes :