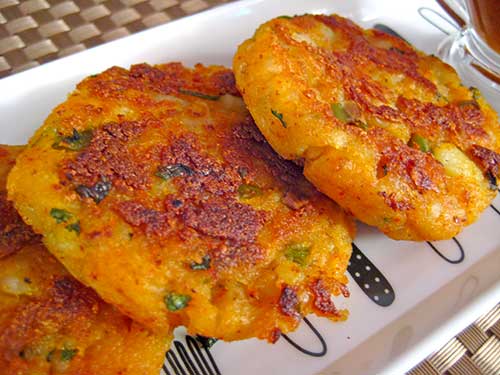 Aloo tikki recipe is a North Indian snack recipe of potato. It is a veg cutlet or patties prepared by boiled potatoes and some spices.
Boiled potatoes are mashed and mixed with some spices including salt, red chili powder, and fresh coriander leaves. Small patties are made with it and tawa fried or shallow fried until outer layer become crispy.
Aloo tikki recipe has some variants as per region. Accompaniments for serving aloo tikki also vary in different regions. Somewhere it is served with yogurt, but served with coriander chutney and tamarind chutney at some other regions in India. It is also served with chola (used in chola-bhatura).
This simplest aloo tikki recipe (आलू टिक्की रेसिपी) which I'm sharing here is the most popular aloo tikki recipe for chaat and also used to stuff between the burgers.
Scroll down for step by step aloo tikki recipe instructions and to watch its cooking video.

AlooTikki Recipe : Step by Step
When it bakes from one side and become golden, then turns it and bake it from another side.

You may need to turn it couple of times.

Bake it till it becomes crispy and light brown.

Serve aloo tikki hot with coriander chutney and tamarind chutney.
Some of the vegetables like spring onion, peas can also be added in aloo tikki.
See other snack recipes :