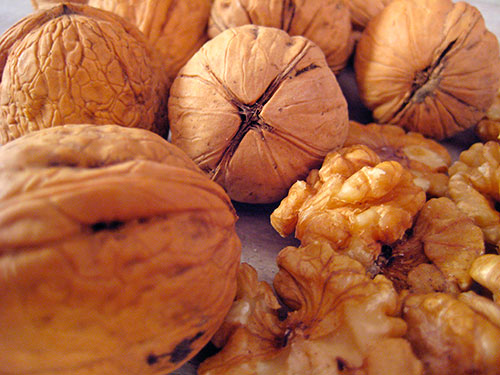 Nuts are nature's way of showing us that good things come in small packages and walnut is one of them which is populary known for its brown colour, crinkliness, crunchiness and usually comes encased in a hard shell that resembles the human brain.
Friends! Today I'm talking about some astonishing facts and health benefits of Walnut (स्वास्थ्य के लिए अखरोट के लाभ). Each bite of walnut is packed with Omega 3 fatty acids, anti oxidants and a heap of vitamins and minerals, making this a power-food for ultimate brain, heart and body health.
Walnut is also a good source of the healthy fat ALPHA-LINOLEIC ACID (ALA) which reduces the risk of heart disease and heart attack. You would wonder to know that one-quarter cup of walnuts provides all the ALA you need in a day. ALA also helps to lower the blood pressure, symptoms of stress and fatigue which offering you a better mood and more energy to get through a challenging day.
Let's take a closer look on nutritonal chart of Walnut :
Nutritional value of walnut per 100 grams
Energy 2,738 kJ (654 kcal)
Carbohydrates 13.71
Starch 0.06
Sugars 2.61
Dietary fiber 6.7
Fat 65.21
Saturated 6.126
Monounsaturated 8.933
Polyunsaturated 47.174
Protein 15.23
Vitamins
Vitamin A equiv. (0%) 1 μg
beta-carotene (0%) 12 μg
lutein zeaxanthin 9 μg
Vitamin A 20 IU
Thiamine (B1) (30%) 0.341 mg
Riboflavin (B2) (13%) 0.15 mg
Niacin (B3) (8%) 1.125 mg
Pantothenic acid (B5) (11%) 0.570 mg
Vitamin B6 (41%) 0.537 mg
Folate (B9) (25%) 98 μg
Vitamin C (2%) 1.3 mg
Vitamin E (5%) 0.7 mg
Vitamin K (3%) 2.7 μg
Minerals
Calcium (10%) 98 mg
Iron (22%) 2.91 mg
Magnesium (45%) 158 mg
Manganese (163%) 3.414 mg
Phosphorus (49%) 346 mg
Potassium (9%) 441 mg
Sodium (0%) 2 mg
Zinc (33%) 3.09 mg
Other constituents
Water 4.07 g
Even the researchers found in biology of reproduction that the men who ate the walnuts "experienced improvement in sperm vitality, motility, and morphology," while those who didn't eat the nuts "saw no change".
Walnut also decreases the risk of :
Sleeping disorders
Breast cancer ect.
Walnut is also recommended by many health practitioners to treat some other health issues which have been listed in the post below.
Health Benefits Of Walnut : Video
Health Benefits Of Walnut 1 – For Tooth Ache and Pyria
Tooth ache is a very common problem which can be cured by walnut.
Make fine powder of 10 brown shells of walnut.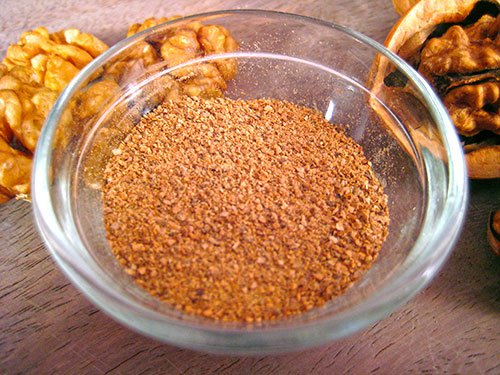 Brushing teeth daily with this powder cures general tooth ache and pyria in few days.
Health Benefits Of Walnut 2 – Stomach Pain
If overeating is the reason of stomach pain, then it can be cured with the help of walnut.
Grind 5 walnuts with water to make paste.
Apply this paste on stomach and leave it for half an hour. Then wash it with tap water.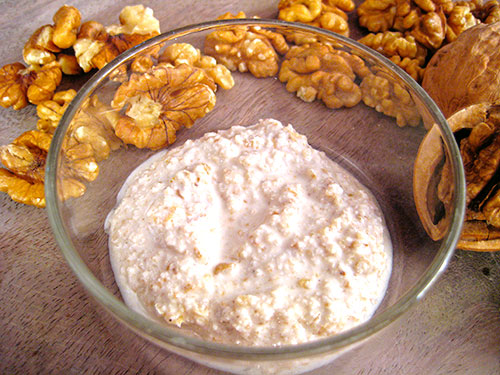 It helps to soothe stomach pain.
Health Benefits Of Walnut 3 – Stone Problem
Crush 5 walnuts with shell and meat. Then grind to make a fine powder.
Sieve this powder.
It is suggested to eat 1 tsp daily in morning and evening with water.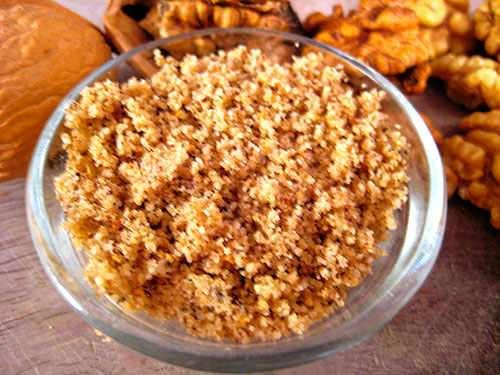 It gradually breaks stone and flushes out from the body with the help of urine.
Health Benefits Of Walnut 4 – Memory Enhancer
Walnut is a very good memory enhancer.
It is suggested to eat 8 walnuts, 6 big raisins and 4 almonds daily in morning.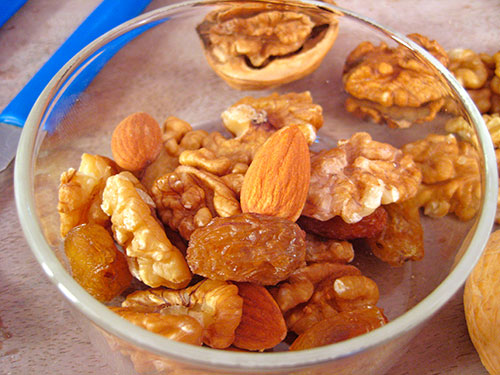 It gradually enhances memory and also improves working ability of brain.
You can add walnuts to get flavorful crunch in dishes. Walnuts can become a favorite on-the-go snack; chopped to top yogurt or oatmeal for added texture and crunch; added to vegetables and salads; or crushed to make a flavorful crust for various dishes.
So guys, A walnut in a day could keep various health issues at bay! Enjoy the health benefits of Walnut.
Also Click here to read ALMONDS benefits for Health.
Related Posts :
---
---
Write me your feedback and queries about general health and beauty tips in the comment area below.